We define wellbeing as a holistic state of thriving dependent upon internal elements of health, happiness, and personal meaning that are often influenced by external factors such as social ties, economic circumstances, and environmental exposures.
Promoting holistic, internalized, and transformational social change:
The combined power of quality education and learning, having opportunity to prosper and grow, building healthy habits and good social relationships, and eco-sustainability can significantly contribute to elevating overall wellbeing of both individuals and communities.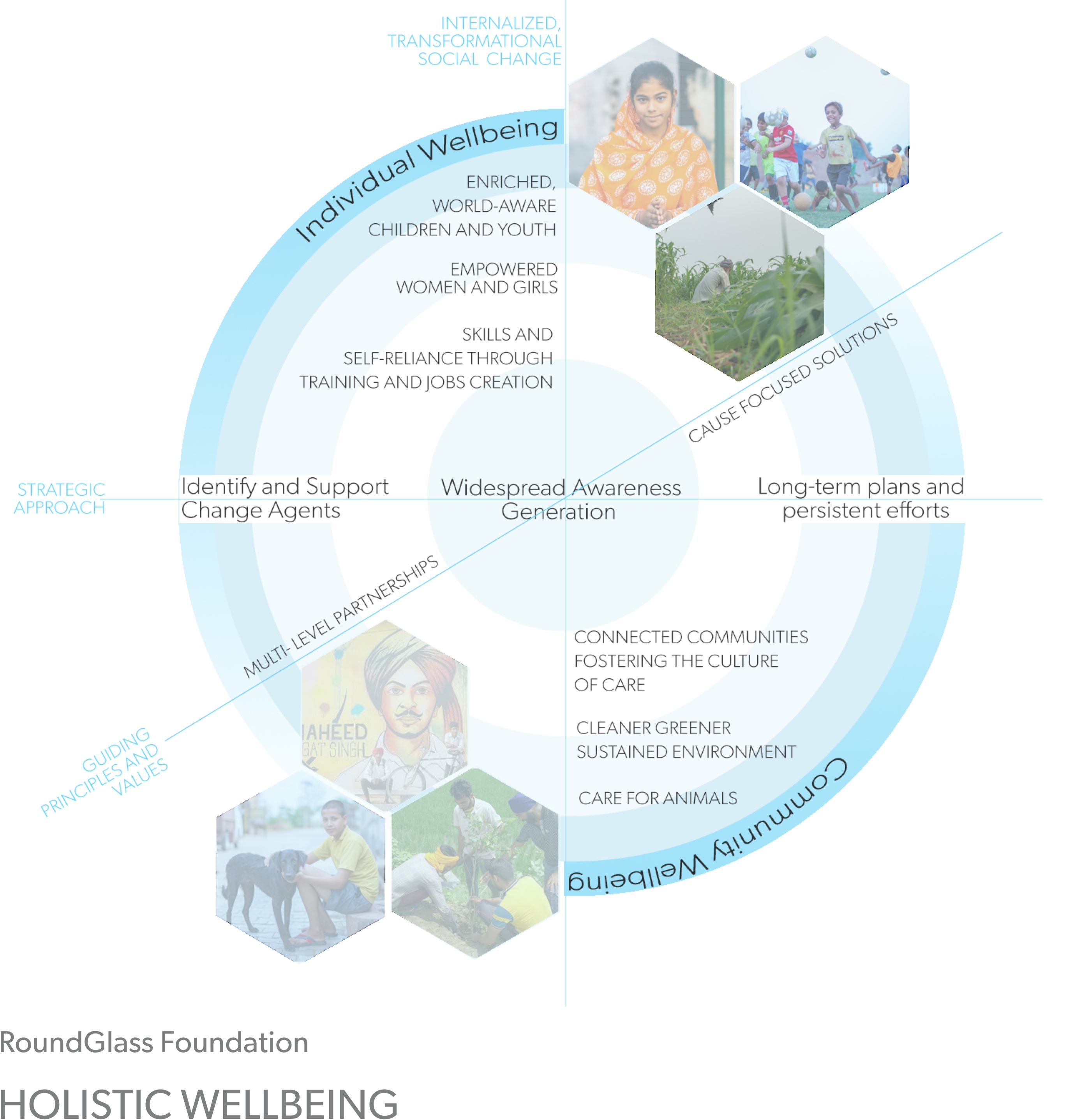 We believe for any change to be adopted and sustained, it needs to be internalized by both individuals and the community going through it.
All our initiatives have a focus on values-based training so that the beneficiaries become the key drivers of change in their neighborhoods. In turn, communities and entire regions become resilient and self-sufficient.
By creating widespread understanding and awareness, identifying and supporting agents of change (champions) within the community, and long-term vesting, we ensure the transition sustains.
Unlike the traditional one-problem-at-a-time approach, our solutions are consecutively applied in a community to bring transformational social change at multiple levels. The initiatives address a wide range of issues at both individual and community level.
Principle and values of our work centered around betterment of life:
We believe:
Wellbeing of individuals and community are inter-reliant.
Harnessing the power of collective action to achieve common goals.
Solutions that address the causes that lead to social challenges, instead of the symptoms that manifest as a result of these challenges.
With the vision of wellbeing for all and grassroots commitment to social change, our initiatives bolster growth for children, youth and women, prosperity for framing community, foster care and connectedness among the members of the community and eco-sustained environment for all.